Chunky Flax Muffins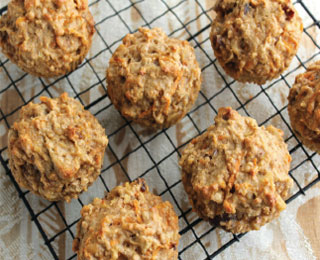 Description
These muffins are sweet, beautifully textured and versatile healthy snacks for everyone.
Ingredients
2 cups self raising flour
1 cup Stoney Creek Organic Flaxseed Meal
1 cup brown sugar 1 tsp ground cinnamon
1_ cups grated carrot
2 green apples, peeled and grated
1 cup roughly chopped walnuts
_ cup chopped dates
_ cup milk
2 eggs lightly beaten
2 tbsp Stoney Creek Organic Safflower Oil muffin patty cases
Method
Preheat oven to 180¼ C. Line muffin/tart pans with 16 muffin patty cases. Place sifted flour into bowl and add meal. In a separate bowl combine remaining ingredients. Pour wet ingredients into centre of dry ingredients and fold together until just combined. Divide muffin mixture between patties and place in oven. Bake for 15-20 minutes or until golden and slightly springy to touch. Serve warm or cool on a rack.