Berry Muffins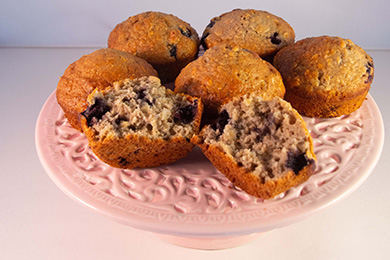 Ingredients
Makes approx. 12
1 Cup S.R. White Flour
1/4 Cup S.R. Wholemeal Flour
1/2 Teaspoon Cinnamon
1/2 Cup Sugar
1/2 Cup Stoney Creek Flaxseed Meal
5 Weetbix Finely Crushed
1 cup frozen Raspberries
1 cup frozen Blueberries
2 eggs, lightly beaten
1 cup So Good Soy drink or Milk of your choice
3 tablespoons margarine. Melted.
Method
Sift flours and cinnamon into a large bowl.
Stir through sugar, Stoney Creek Flaxseed Meal, crushed Weetbix and berries.
Combine egg, Milk and margarine.
Add liquid ingredients to dry ingredients stirring gently until just combines.
Spoon mixture into lightly greased muffin tins.
Bake in moderately hot oven at 190oC for 30mins.
*Pictured recipe includes 1 cup rolled oats (instead of crushed weetbix) and only 1 cup blueberries.