Cherry Clafoutis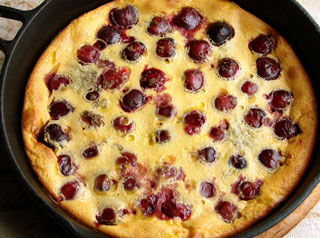 Ingredients
2 tablespoons plain flour
2 tablespoons Stoney Creek Organic Flax Flour
1/4 cup caster sugar
Pinch salt
2 eggs, 1 egg yolk
1 tablespoon Stoney Creek Organic Safflower Oil
1 teaspoon vanilla
1 1/4 cups milk
200g ripe black cherries (retain pips to enhance flavour)
Butter (to grease pan)
Method
Stir together flours, sugar and salt.
Make a well in the centre.
Add eggs and yolk, work into a paste with a wooden spoon.
Beat in oil, add milk, beating until light and smooth.
Spread fruit evenly in bottom of well greased, medium-sized pan or pie dish.
Pour mixture over fruit, avoiding air pockets.
Bake at 180oC for about 40 minutes or until a knife inserted comes out clean.
Cool and dust with icing sugar.
Alternatively, use fruit in season such as red cherries, apricots, plums, chopped peaches.
Serve with sour cream or cream if desired.