Gluten-free Cherry Clafoutis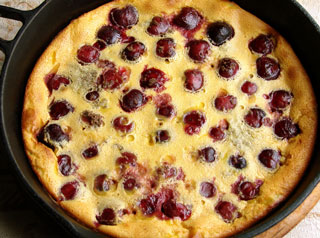 Ingredients
2 tbsp almond meal
2 tbsp Stoney Creek Organic Flax Flour
1/4 cup caster sugar Pinch salt
2 eggs 1 egg yolk
1 tbsp safflower or sunflower oil
1tsp vanilla (or use a vanilla bean or vanilla sugar)
1 1/4 cups milk
200g ripe black cherries (retain pips to enhance flavour)
Butter (to grease pan)
Method
Stir together almond meal, flour, sugar and salt.
Make a well in the centre.
Add eggs and yolk, work into a paste with a wooden spoon.
Beat in oil, add milk, beating until light and smooth.
Spread fruit evenly in bottom of a greased medium flan dish.
Pour mixture over fruit, avoiding air pockets.
Bake at 180oC for about 40mins or until a knife inserted comes out clean.
Serve warm, dusted with icing sugar.