Gluten-free Lemon Cake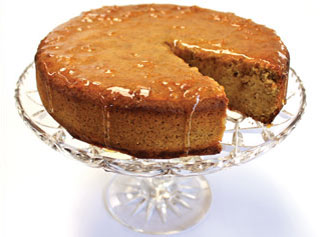 Description
Gluten-free lemon cake is based on a Greek-style lemon cake combining sweet lemon, a delightfully fruity olive oil and the perfect sourness of yoghurt. It is a most delicious cake, full of lemony sweetness and warmth.
Syrup
2 tsp water
½ cup caster sugar
½ cup lemon juice
zest 2 lemons
Simmer in saucepan until desired consistency
Ingredients
3 eggs
1 cup caster sugar juice
2 lemons & 2 tsp zest
1 cup almond meal
1 cup Stoney Creek Organic Flax Flour
2 tsp baking powder
1 cup Greek or natural yoghurt
1/2 cup extra virgin olive oil
butter/oil to grease pan
Method
Preheat oven to 180oC.
Grease/line 20cm cake tin.
Beat eggs and sugar until pale.
Whisk in juice and zest.
Add dry ingredients, yogurt and oil, stir until smooth.
Pour into cake tin and bake for 45 minutes or until golden.
Serve with syrup and mascarpone or cream if desired.