Summer Cheesecake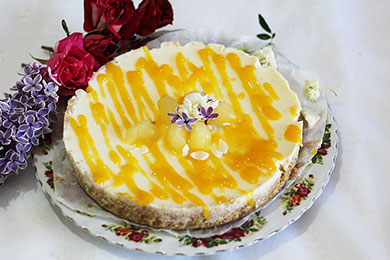 Ingredients
Using the natural sugars of fresh fruit, the natural sweetness of honey & coconut, the tangy freshness of Greek yoghurt and a unique, high quality nutty taste of Stoney Creek Oils Organic Flaxseed meal, no extra sugar is needed for this delicious recipe!
To share with the kids, the family or to eat on your own, this is a dessert that everyone can enjoy with a healthy twist.
Crumbing:
100g arrowroot biscuits
120g unsalted butter
1/2 cup Stoney Creek Organic Golden Flaxseed Meal
Filling:
1/4 cup fresh lemon juice (or to taste)
1/2 cup fresh honey
1/2 cup plain Greek yoghurt
2 tsp cold-pressed virgin coconut oil
200ml thickened cream
2-3 tsp gelatin
2 cups Water
Pineapple Jellies: (Optional)
500ml tinned pineapple (juice & chunks)
2 cups Water
2 tsp Gelatin
Mango Coulis:
Method
Preparation:
Line 20cm tray/pan with baking paper & set aside.
Base:
Crush biscuits to a crumble or fine texture (depending on preference) & place into a mixing bowl with flaxseed meal.
Melt butter and mix into crushed biscuit
Once thoroughly mixed pour into tray and press to desired base thickness.
Place into fridge or set aside.
Filling:
Mix lemon juice, honey, yoghurt, cream & coconut oil into a bowl until combined and set the filling aside
Using a saucepan, combine gelatin and water & mix until gelatin is fully dissolved.
Once gelatin has dissolved, pour into filling mixture Ð making sure to continue mixing until combined (electric hand mixer is ideal)
Once the filling has been made, pour directly onto biscuit base and place in fridge.
Pineapple Jelly (optional):
Blend pineapple in a blender until smooth, and then pour into saucepan with water.
Bring to a boil and add gelatin powder, then leave mixture to simmer, then to cool slightly.
Pour into jelly molds and set in fridge to set.
Mango Coulis:
Combine honey and mango into blender and process until smooth.
Pour through a sieve into a bowl, jug or jar.
Finishing touches:
Leave for a few hours to overnight to set
Once set, decorate cheesecake with coulis, jellies (optional) & a few mint leaves for a bit of colour.