Carrot Dip
Date Posted:6 August 2014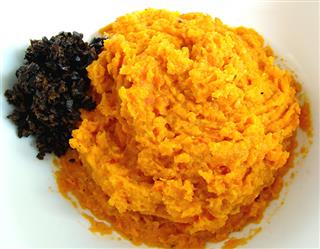 Description
There are many variations of this Middle Eastern inspired carrot dip. Some have cayenne pepper or paprika, harissa paste in place of chilli, or ginger added. The mouth-warming flavour of cumin pairs particularly well with sweet, buttery carrot. Serve as a colourful dip with flat or crusty bread, or toss through pasta with feta cheese for a delicious dinner.
Ingredients
750g organic carrots
2 minced garlic cloves
1tsp minced chilli
1tbsp extra virgin olive oil
2 tbsp Stoney Creek Organic Safflower Oil
1tsp ground cumin
1tbsp red wine vinegar
1tsp lemon juice salt and black pepper to taste
10 black olives, pitted and chopped
Method
Peel and chop carrots into small chunks and steam until tender, then process with oil until fairly smooth yet retaining some texture.
Stir in rest of ingredients except for olives.
Serve in a bowl with olives on the side and your favourite bread.