Flax Crackers with Guacamole
Date Posted:23 August 2014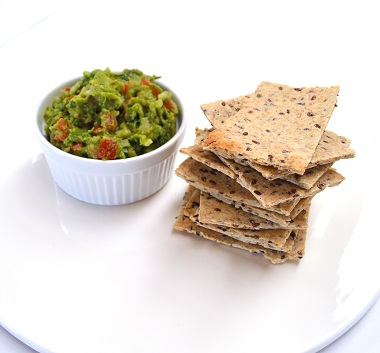 Ingredients
Gluten-free Flax Crackers
2 cups gluten-free flour
½ cup gluten-free self-raising flour
½ cup Stoney Creek Organic Flax Flour
50g butter (chopped)
up to 1 cup water
½ tsp salt
¼ cup Stoney Creek Organic Flaxseeds (brown or golden)
Guacamole
½ onion (any variety) finely chopped:
1 lemon;
2 avocados,
1 tbsp Stoney Creek Organic Flaxseed Oil;
1 tomato finely diced;
handful coriander;
salt, pepper and chilli to taste.
Method
Gluten-free Flax Crackers
Mix flours together, add salt and flaxseeds.
Rub in butter.
Add water until a dough consistency.
Cover and refrigerate for 30 minutes.
Roll out thinly, cut into shapes and prick with a fork.
Bake at 180°C for 15 minutes or until golden.
Guacamole
Soak onion in lemon juice for 30 minutes and drain from juice.
Mash avocado and add the remaining ingredients.