Pumpkin Hummus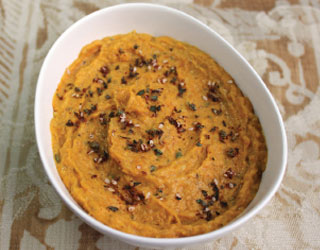 Description
This dish is adapted from Silvena Rowe's gorgeous book Purple Citrus and Sweet Perfume - a celebration of Eastern Mediterranean food. Za'atar is delightful sprinkled on any dish and gives an unusual lively twist to this pumpkin hummus.
Ingredients
450g pumpkin, peeled and chopped into wedges
1 tbsp olive oil
1 clove garlic (crushed)
3 tbsp lemon juice
2 tsp ground cumin
1 tbsp tahini
2 tbsp Stoney Creek Organic Flaxseed Oil
1 tbsp za'atar (plus 1 tbsp for garnish)*
To make Za'atar, mix
2 tbsp finely chopped oregano
1 tbsp marjoram
2 tbsp sesame seeds (lightly toasted)
1 tbsp sumac
1/2 tsp salt.
Store in a jar for up to one week. Use with bread dipped in oil or sprinkled on salads and hot dishes.
Method
Preheat oven to 200oC.
Place pumpkin in a baking tray, brush with olive oil and season with salt and pepper.
Roast for 35 minutes or until golden and soft.
Remove from oven and leave to cool.
In a bowl, roughly mash cooled pumpkin with a fork, add remaining ingredients, combine well and serve garnished with extra za'atar.