Baby Spinach & Prosciutto Salad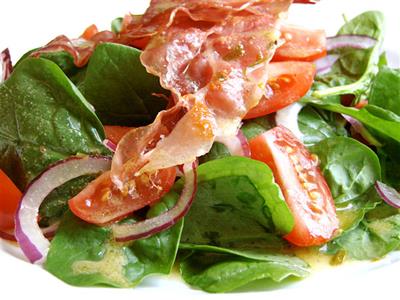 Ingredients
Vinaigrette
1/4 cup extra virgin olive oil
1/4 cup Stoney Creek Organic Flaxseed Oil
1/2 cup white wine vinegar
2 tablespoons wholegrain or tarragon mustard
Cracked black pepper and sea salt
Place ingredients in a bowl and whisk to combine. Store in refrigerator in closed container for up to three weeks. Makes one cup.
Salad
2 handfuls of baby spinach
A few chopped basil leaves (or other fresh herbs)
6 chopped baby tomatoes (sliced in quarters)
1/2 salad onion (finely sliced)
2 slices of crispy, lightly grilled prosciutto
Parmesan shavings and cracked pepper to taste
Method
Rinse and dry salad leaves and place in a bowl.
Toss in tomatoes and onion.
Dress with vinaigrette to taste.
Serve on a plate with prosciutto, parmesan and pepper on top.
Serves one as a lunch or two as a side salad.