Beetroot Salad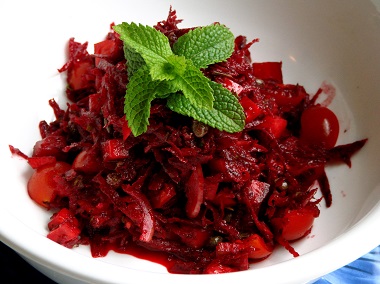 Ingredients
2 medium beetroots, peeled and grated
1/4 red salad onion (finely sliced)
6 baby tomatoes (chopped)
1/2 Lebanese cucumber (chopped)
1 tablespoon of lemon juice
1 tablespoon Stoney Creek Organic Flaxseed Oil
2 tablespoons extra virgin olive oil
2 tablespoons capers in their juice
1 handful of chopped mint Ground pepper to taste
Fresh chilli to taste (optional)
Method
Mix all ingredients together and serve as a salad, side dish or on toast rubbed with garlic.
All ingredients can be varied to taste.
As beetroot is quite sweet, a slightly tangy and salty balance is desirable.
This dish is also tasty on top of tsatziki dip on toast, or with cream cheese (soy or dairy), or blended as a dip.