Quark & Flaxseed Oil Mayonnaise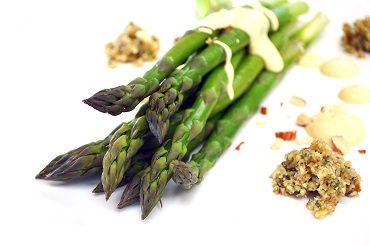 Ingredients
Quark Mayo
3 tbsp Stoney Creek Organic Flaxseed Oil
3 tbsp milk
3 tbsp Quark/cottage cheese (or natural yoghurt)
1 tbsp lemon juice and/or 2 tbsp apple cider vinegar
1 tbsp mustard
1/2 tsp herb/sea salt (or less if desired)
Almond Lemon Crumble & Asparagus
4 tbsp crushed almonds
2 tbsp parmesan
20 sage leaves
1 tbsp lemon juice
1 tbsp olive oil
1/2 clove crushed garlic
1 tsp Stoney Creek Organic Flaxseed Oil
pinch salt.
Method
Quark Mayo
In a blender, combine oil, milk and Quark.
Add lemon juice/vinegar, mustard and salt.
Add fresh herbs (eg dill, marjoram, mint, chives) to suit.
From The Oil-Protein Diet Cookbook by Dr Johanna Budwig (Apple Publishing Co. Ltd.)
Almond Lemon Crumble & Asparagus
Combine ingredients in a food processor and whiz until finely chopped.
Steam fresh asparagus for five minutes and serve with quark mayo and almond lemon crumble.