Roast Beetroot & Radicchio Salad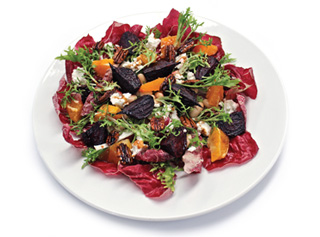 Ingredients>
3 medium beetroots, peeled and quartered
1/2 cup pecans, toasted
100g chèvre (goat's cheese)
Handful of radicchio and endive leaves
1 orange peeled and sliced into half segments
250g cannellini beans
Olive oil
Cayenne pepper and salt to taste
Dressing:
1 tbsp balsamic
1 tsp icing sugar
1 tbsp Stoney Creek Flaxseed Oil
stirred together.
Method
Toss beetroots in a roasting pan with olive oil, salt and cayenne pepper.
Roast at 180oC for 20/30 minutes or until caramelised and soft.
Arrange ingredients in a bowl or platter, crumble with chèvre and drizzle with dressing.