Apricot Anzacs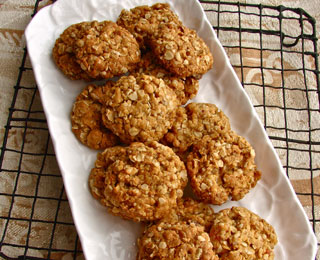 Ingredients
125g butter
2 tablespoons honey
Add:
2 tablespoons boiling water
1 teaspoon bicarb soda
2 cups quick cooking oats
1 cup plain flour
_ cup Stoney Creek Organic Flaxseed Meal
_ cup white sugar
_ cup coconut
_ cup chopped dried apricots
Method
Place butter & honey in medium saucepan, melt and cool.
Add other ingredients and mix well.
Take level tablespoons of mixture and roll into balls, place on trays 5cm apart, flatten slightly.
Bake at 170oC for 15-20 minutes.
Makes approximately 24.