Gluten-free Tahini Swirls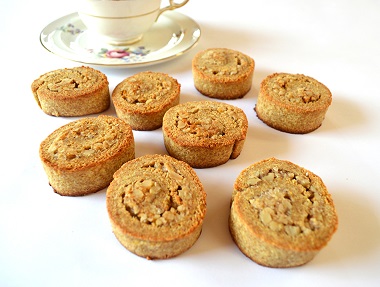 Ingredients
Swirls
1/2 cup Stoney Creek Organic Flax Flour
1 tsp baking powder
1 1/2 cups almond meal
1/4 tsp cinnamon (ground)
1 1/2 tbsp tahini (or orange tahini for a sweeter flavour)
1/4 cup caster sugar
1/2 cup orange juice
2 tbsp brandy (optional)
pinch salt
Combine dry ingredients, dissolve sugar in liquids and stir in tahini.
Mix all ingredients and form a ball.
Flatten a little, cover with plastic wrap and refrigerate.
Filling
1 cup chopped walnuts,
1/4 cup sugar,
1/2 tsp cinnamon (ground),
1 tbsp tahini,
1 tbsp lemon juice,
1 tsp lemon zest.
Method
Warm ingredients over a low heat until combined.
Remove dough from fridge and roll onto plastic wrap until a 1/2 cm thick rectangle, pushing together any breaks.
Trim with a knife.
Spread filling over dough and use plastic to roll into a tight roll, pushing together if it breaks.
Refrigerate for at least 30 mins.
Preheat oven to 180oC.
Unwrap dough and slice into 1cm scrolls, placing flat on a lined baking tray.
Bake for 25 mins.