Flax Pasties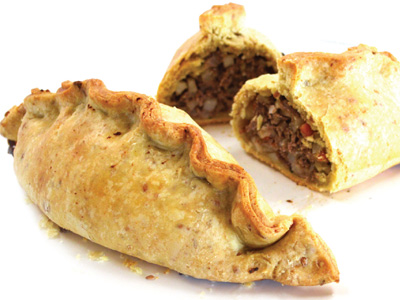 Ingredients
PASTRY
3 cups pastry flour or gluten-free plain flour
115g chilled butter or vegetable shortening
115ml olive oil
_ tsp salt
1 tbsp Stoney Creek Flax Flour combined with 3 tbsp cold water (flax egg)
1 tbsp whole flaxseeds, cold water.
FILLING
250g premium minced beef
1 small parsnip
1 small carrot
1 small onion
1 small potato
sprig thyme and nutmeg
_ tsp salt
_ tsp white pepper.
Method
PASTRY
Place chopped butter, oil, flour and seeds in food processor vessel in the freezer for 20 mins. Whizz until it resembles breadcrumbs and then blend in flax egg add extra water to combine. Place cling wrap on bench and form pastry into a ball, press into a disk, wrap and and refrigerate 30 mins. (makes 4 pasties)
Preheat oven to 200 ¼C. Finely chop vegetables, combine with mince and season with fresh nutmeg, salt and white pepper. Roll pastry to medium plate size, 3mm thick and place filling in the middle. Brush edges of pastry with water and bring together to form pasty shapes. Place on baking tray and bake for around 45 minutes. Turn down to 180¼C after 5 mins to slow cook the filling.
Description
Home made pasties are hard to resist. This pastry is easy to work and you can experiment with fillings. The flaxseed meal or flour replaces egg but absorbs water. You can try it gluten-free and change the filling for a vegan dish.