Minestrone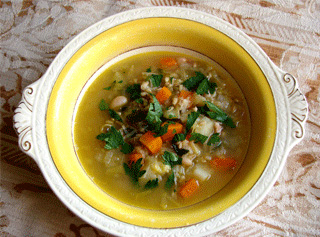 Ingredients
4 tablespoons extra virgin olive oil
3 large onions, sliced into rings
2 slices quality bacon (chopped) or some butter
4 carrots (diced)
2 sticks celery (diced finely) including tops
2 medium potatoes (peeled and diced)
250g shredded cabbage (prefer Savoy)
1 or 2 zucchinis sliced lengthways and chopped into chunks
1.5 litres chicken stock
2 small pieces of parmesan rind (keep pieces in the freezer)
100-150g barley
400g can cannellini beans or prepared dry beans
2 tablespoons Stoney Creek Organic Flaxseed Oil
Grated parmesan and cracked black pepper
Method
Slowly sweat onions in olive oil, adding bacon and vegetables in order as you chop.
Add chicken stock and parmesan rind, bring to the boil then simmer for 1 to 2 hours.
Add barley and continue to simmer until cooked.
Add celery leaves and cannellini beans to heat through.
Serve with grated parmesan and pepper, stirring in flaxseed oil at same time.